A week-ish on from the last post, January blues seem a little less prevalent today.
I've resubscribed to BoardGameArena and spent an hour or so playing some of my favourite games. Won a game of Can't Stop. Won a game of Color Pop. Lost a game of Welcome To, Railroad Ink, Ticket to Ride.
I love Welcome To, it's such a fun game, and it's one of those really interesting ones where everyone has the same opportunities as everyone else, but its clear after a few turns that everyone has gone off on a tangent and you have several different games going on.
Endgame is also extremely fun, depending on what cards come out and what spaces you've left, you can sometimes find yourself one or two turns away from a win, and you run out of time due to another player triggering endgame without warning because they've not been able to place three cards. Boo to them. Happens all too often to me.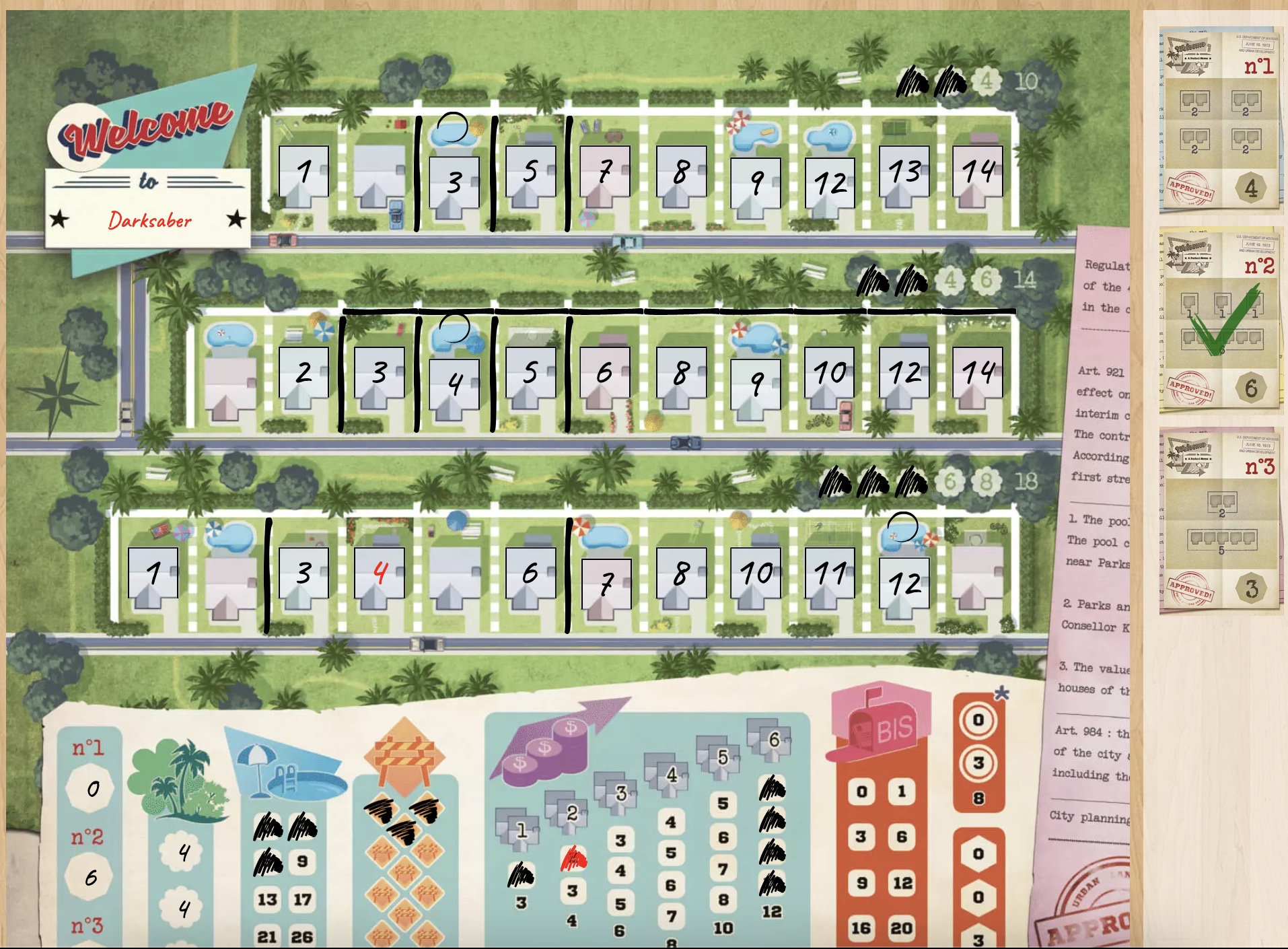 This isn't my handwriting btw, I can't write that neatly, its generated by the BGA website. Fun!
I haven't logged them on BGstats, so they won't appear on the website as recent plays. I'm in two minds really. I mean I did play the proper games, digitally rather than on a table, but with strangers, so maybe I'll just log ones with friends where I care about the scores and I already have people in the app. Who knows, we'll see.
Whilst playing I've had a 90s playlist on shuffle. It's not that I don't get on with modern music - I get on with some of it, but I think its definitely true that your musical tastes are formed in your younger years.
Babylon Zoo - Spaceman just came on. That was on a Levi's advert, and everyone bought the single and it wasn't all speeded up and high pitched, it was boring as hell once the chorus went away. Ha. My brain is so full of rubbish bits of information. It's surprising that there's any space for anything that's actually useful.
Games day on Sunday but I can't get down there till later on because I have to go pick up the eldest from his grandparents. I'll hopefully get up there for a few hours after that, and hopefully I can start to get up there on a Tuesday evening again soon. Can't next week as I'm not around but I might have some game playing opportunities, you never know.
It's not even really hump day. Compressed hours mean I only work Mon-Thurs, so tomorrow is my Friday. Yay.
Next week promises to be a toughie, with travel, days of meetings and probably rubbish weather. It'll be nice to see friends again though.
I guess the main point of this post, is that I'm ok.
comments powered by

Disqus
Share on: